text 20:56:00
(This post is about the City of London Highwalks. You might want to check the introductory post for a list of related stories.)
In 2003, it was possible to walk from Old Broad Street to Leadenhall Street above street level. Just south of the Metropolitan Line entrance to Liverpool Street, a set of steps beside the entrance to Bishopsgate Courtyard allowed you to access a first floor walkway running along the west, then south, edges of the buildings, taking you to a bridge across the dual carriageway of Wormwood Street. Heading south, a tunnel ran inside the podium level of the 100 Bishopsgate skyscraper, emerging after a few twists and turns below the Natwest Tower.
To the south, the highwalk ended in steps back down to Broad Street, but you could also head east, crossing Bishopsgate on another bridge, to 22-24 Bishopsgate. Walking above the pavement, it was possible to head towards 8 Bishopsgate, and then through the building towards Undershaft, emerging down steps either there or on Leadenhall Street, underneath the old Midland Bank, facing Lloyds of London.
This latter section was the first to close, in early 2007, to make way for the new 122 Leadenhall Street. Slowly, more and more of this latter section was closed as the two Bishopsgate towers (at 8 and 22-24) were demolished to make way for Bishopsgate Tower, with the bridge finally being demolished late last year. (You can still see it for now on Google's Street View, captured in July 2008.)
Meanwhile, the northern section was also closed off as the tower at 55 Old Broad Street was being reclad. However, unlike the demolition of the buildings on Bishopsgate which were integral to the highwalk, this merely saw the entrance staircase demolished, seemingly to provide a more attractive entrance archway for the revamped building, which is set back from the main road. (Once again, Street View captures the process of removal.)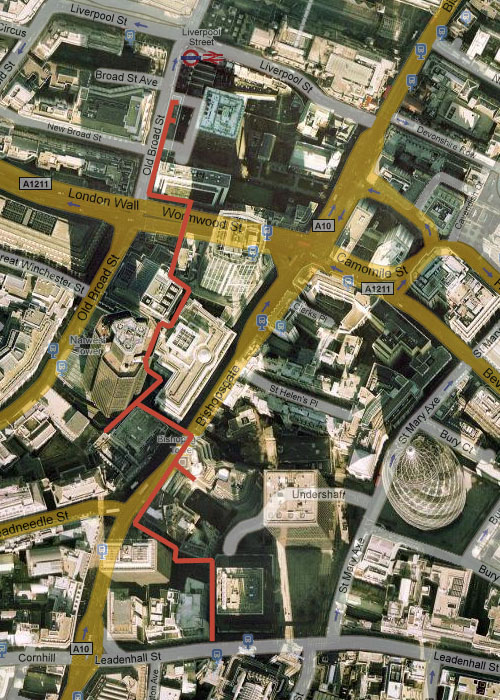 So, what's left? You can climb to the highwalk on the south side of Wormwood Street. Bafflingly, it's still possible to cross the road, but you can't descend on the north side, nor walk around the still-extant first floor pathway towards Liverpool Street. (Presumably the bridge is part of the fire escape route for some of the older blocks there.) You can still head south, and leave the highwalk from stairs around Tower 42, but the bridge across Bishopsgate is gone, and the highwalk is boarded up overlooking the road.
All in all, this is now a rather useless fragment of a route, and unless it gets a new access stairway on Wormwood Street, or a bridge to the Bishopsgate Tower (if and when it's complete), I wouldn't be surprised to see it further curtailed in the forthcoming years.